PainRound is an app to assist you in performing an Acute Pain assessment, and in communicating this assessment to your colleagues.
Getting Started
To enter a patient, tap the plus button. This will create a new patient and take you to the summary view for the patient.
Tapping on any of these rows will allow you to enter patient data.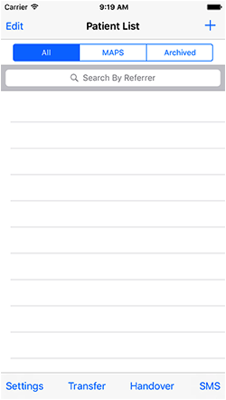 A summary of the pain visits are shown below the row for Anaesthetic Technique. Tapping on one of these rows will let you look at all the details from the visit.
To add a new visit, tap the + button. You can change the values for the rows by tapping on the row.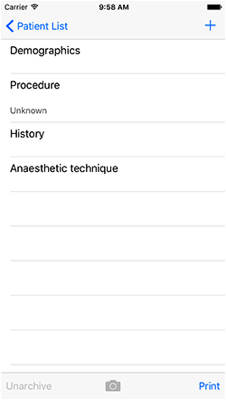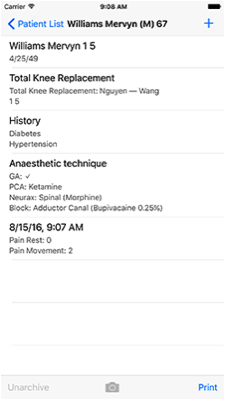 You can delete any line from any of the cells by swiping left.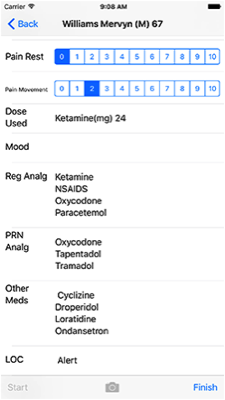 Most of the rows will have a list of preset values. If you tap on the title of the row it will let you choose from one or more of the presets.
Most of these lists only allow a single choice. Tapping an option will close the popover window and enter the value into the relevant field. If it does not make sense to have multiple entries in the field, the current text will be replaced, otherwise the tapped value will be added to the end of the field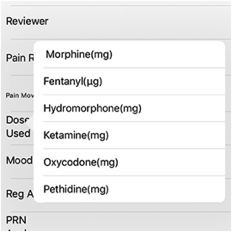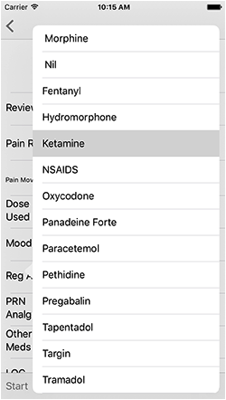 For the Regular and PRN Analgaesia and Other Meds fields you can select multiple items at once. The values will be entered after you tap outside the popover window.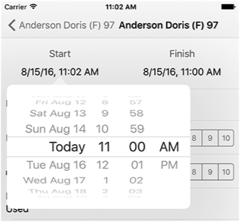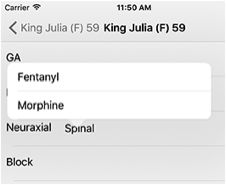 To enter a start time tap the Start button in the Start/Finish cell. If you haven't done this, entering any data will automatically enter the current time as the start time. You can enter a finish time by tapping the finish button.
If you wish to change these times you can do so by tapping on the Start or Finish button.
Swiping right on a word in a cell may bring up a secondary popover window to allow you to modify the word.